Cartoons and Disney movies take us back to those fun childhood days when getting up and watching cartoons all day long used to feel like a dream come true. If you are a big-time cartoon lover, getting cartoon tattoos must have crossed your mind at least once right? And here, we will tell give you more than enough reasons why you should go for a fun-loving cartoon character as your tattoo.
Cartoon tattoos never go out of style and it always brings that crazy childhood side of yours no matter what age you are. They don't have to carry a deep meaning or message, but we can assure you that cartoon tattoos will certainly bring smiles on your or your friend's faces.
Why are Cartoon Tattoos popular?
Cartoons have always been a part of our childhood. Thanks to YouTube, we can still stream to classic cartoons of the 80s and 90s including Spongebob Square pants, Tom & Jerry, Johnny Bravo, Ed, Edd n Eddy, and many more. Cartoons tattoos unlike other abstract or traditional tattoos look fun and quirky. These tattoos can also embark on the personality of an individual. If a person has Popeye tattoo, it can indicate that he is a fitness freak, or if he/she has an Ariel tattoo, it can denote that he/she has a deep connection with the ocean.
As much as we loved to watch pure entertainment, funky, and vivid scenery of cartoons, cartoon tattoos can be deemed equally enjoyable and unforgettable. If you are having a bad day, watching your favorite tattoo instantly boosts your mood and make you happy. Having a cartoon tattoo will remind you of all those fun childhood memories and yes it looks fun and stylish as well. That's why they are so popular these days!
How to Take Care of Cartoon Tattoos on the 1st day?
Cartoon tattoos like all other tattoos need the same aftercare. Since cartoon tattoos are more colorful than black inked or tribal or classic ones, you have to be extra careful on the day you got the tattoo. Lack of proper care and unhygienic condition can lead to a severe skin infection. Here are a few useful tips on how to take care of tattoos until it heals.
Check whether or not your tattoo artist has applied a thin coat of petroleum jelly and a bandage over your tattoo.

The bandage should not be removed until 24 hours. After that, you can remove it and gently wash with antimicrobial soap. Slowly and gently pat dry.
Regularly apply antimicrobial ointment suggested by your artist or dermatologist twice a day and avoid putting over bandages.
Keep washing the tattoo area frequently with soap and water and pat dry.
Keep applying the ointment and repeat this process for at least 2 to 4 weeks.
Don't wear itchy fabrics like polyester, nylon, spandex, or wool.
It's better if you do not wear clothes that stick to your tattoo, but if you have to do, wear cotton clothes.
How to Take care of Cartoon Tattoos in Summer?
Cartoon tattoos are generally small and you might think you don't need extra care for small tattoos during summer. But you are wrong! Summer means scorching sun, sweat, sunburns, and skin problems. Taking care of tattoos is more important during the summer. Tattoos naturally fade over time and sun and sweat can make the fading speed, or even cause skin infection around the tattooed area. Aside from infection, you don't want your favorite cartoon tattoo to look ugly and faded. Here are a few things that you can make your tattoos vibrant as always during summer.
It is safer to use clothes covering your tattooed skin to minimize sun exposure. Go for breathable cotton leggings and loose shirts when outdoors are hot as hell.
It is important to moisturize your skin on a regular basis. A very soft and non-scented lotion is the way to heal new cartoon tattoos; I like the Unscented Hemp Seed Lotion from Natural Body Care and the baby lotion from Johnson & Johnson. Any lotion or body cream does the trick for healed parts.
Drink lots of water as water keeps your skin hydrated and clear, avoiding dryness.
Apply a generous layer of sunscreen on your tattoo before going out into the sun for a long period of time. Consult your dermatologist on which SPF sunscreen you should use that is suits your skin.
Avoid sunbathing and opt for sun-free tanning like spray tanning
Some foods, such as bell peppers , tomatoes and carrots, contain vitamins and organic compounds to improve the overall health of the harmed skin. Consider eating fruits such as watermelon, cucumber, apricots and oranges that have high water content, helping your skin stay hydrated.
45 top Disney Cartoon Tattoo Ideas
Cartoon tattoos have become a bit of a style statement for the kids who grew up in the 90s and we are really attached to them. That being said, here are 50 pretty amazing cartoon tattoo ideas that one should try out with or without getting drunk.
Mickey and Minnie Duo
Mickey and Minnie are the famous Disney duo that made us believe that love is true and it can be as pure and as affectionate as these two characters portrayed to be. If you love them, you can get a pair of them cozying up with each other just like this one!
2. Pingu
Did you know that one episode on Pingu that featured some scary ice monsters not just frightened Pingu but a lot of young viewers too that unofficially put a ban from broadcast distribution? That's sad right? Well, in the loving memory of Pingu, why not get some tattoos?
3. Screaming Courage the Cowardly dog tattoo
Many might not have noticed but this cartoon was really freaky, build with disturbing dark humor. The eye bulging out and panting expression of Courage really brings out those childhood memories and if you want to add some color to your tat, you can get one with our cute Courage.
4. Minimalistic with Pooh
If you loved watching Pooh but want to get Pooh tattoo with minimalistic design, this one is the best. My favorite character was sweet and innocent piglet and their friendship has really taught us many lessons.
5. Kitty Cat
Isn't this kitty cat pretty? This tattoo will look super cool on a man's arm, because what's wrong with a man loving a cat right? Plus it can add a bit of colour to mundane days when you can look at it smile.
6. Scooby Dooby Doo
Scooby-Doo was the best dog on screens. Scooby used to solve mysteries in an interesting way, with his four team members. It is really popular and worth to look at the video. Having this character to tattoo will make you recall the days of your childhood.
Also See: 75+ Must Have Bunny Tattoo Ideas and Inspiration
7. The Famous Plank tattoo
If you are adulting and losing friends, get this plank tattoo, its hilarious. In case you didn't know, Plank was the imaginary friend of Jonny from the famous Disney cartoon series, Ed, Ed n Eddy. The intro music brings the buzz, doesn't it?
8. Joker themed Mickey and Donald
This would certainly not be the type of cartoon you would watch when you were 5 but now the mix of Joker and these characters certainly jazz up your style.
9. Adventure Time Tattoo
This popular cartoon show will look great as ar tattoo. The color combination is marvellous and you can imagine all the fun part of this cartoon by just glancing at your arm or showing off to the crowd.
10. Popeye the Sailor Tattoo
Popeye the Sailor was favorite of most boys growing up and most little boys started eating their veggies just watching Popeye devouring the spinach and getting muscles. This tattoo is unique and perfect for your wrist because the other macho hand is of course yours.
11. Cool Anime Tattoos
Anime are super popular across the world and why not, their contents  and stories are just mind-boggling. What's super cool is this tattoo that will definitely raise few questions and a whole lot of admirations.
12. Calvin and Hobbes Duo
This funny and super adorable comic strip really made our day while going through the boring headlines in the newspapers. I remember reading the Calvin and Hobbes comic books and those were hilarious and sweet. Get this colorful tattoo to have a fond memory of this best friend duo.
13. Improvised Mickey
This looks a bit futuristic like Mickey mouse emerging out from the future of robots. If you like a futuristic inked tattoo, try this out!
14. Wall-E and Eve Duo
Fun Fact: WALL-E stands for: Waste Allocation Load Lifter: Earth Class. EVE stands for: Extra-terrestrial Vegetation Evaluator. This duo's chemistry really melted our hearts and this amazing colorful tattoo is worth all the pain and scars, truly!
15. Ratatouille Tattoo
Fun Fact: Gusteau the chubby chef who dies of sadness after losing a Michelin star and later return as Remy, Ratatouille's friend who inspires him to follow his passion for cooking, was based on real-life! Wow! If you are a chef or a big fan of this movie and want daily inspiration, get this tattoo on your arms or legs, looks cute!
16. Spidey Tattoo
For comic collectors, Spiderman tattoo is the most iconic tattoo designs, where you have to earn it. If webbing enemies is what you fantasize about, you will be truly satisfied with this funky comic book based spidey tattoo.
17. Butt-head looking for Beavis Tattoo
If you enjoyed this American adult animated sitcom throughout your 90s, you my friend is Legendary. Have fun and dirty memories with this butt-head tattoo and perhaps make your best friend get the Beavis tattoo. Oh, it will be fun!
18. Bikini Bottom Tattoo
As much as we imagined living inside the ocean and going inside Sponge Bob's pineapple house, we, unfortunately, grew up. But still to keep the whim alive, you can get this colorful pineapple inked on your arms and keep memories of Punta Cana alive.
19. South Park Tattoos
It is no surprise that after twenty amazing seasons of South Park, the loyal South Park fan has no fear of getting inked with these funny characters.
20. Courage with his torch
Courage with his torch gave some memorable episodes that led it to be one of the highest-rated premiered show in Cartoon Network history during the late 90s. Instead of the iconic screaming tattoo, you can get Courage with this quirky expression.
21. Gorgeous Ariel Tattoo
The 1989 popular Disney Classic, The Little Mermaid with the beautiful cast of Princess mermaid Ariel made us fall in love with her. The amazing ocean life, catchy title track, and perfect stories are one of many reasons why Ariel tattoo is famous among the fans.
22. The Adorable Stitch
The famous quoted lines from Lilo & Stitch, "Ohana means family. Family means no one gets left behind." won hearts of millions and if you are a mess maker in the family but love them from you heart core, Stitch is the perfect tat to get.

23. Wonder Woman Tattoo
Wonder Woman tattoo is perfect for all the female warriors of the whole who are doing amazing jobs, parenting, saving lives and many more.
24. Sexy Betty Boop Tattoo
Betty Boop, loved most by the young and carefree generation was best known as sex symbols for animated screens. Unfortunately, it got banned, but still managed to become the official fantasy cheerleader for United Football League and she has been featured in many different merchandises as well.
25. Buzz Lightyear Tattoo
You should get this tattoo if you're a big-time Toy Story fan. For any lover of this fun franchise, Buzz Lightyear is a perfect character to get as an arm tattoo.
26. Doraemon Tattoo
We all vividly remember the cute Japanese blue robot cat, Doraemon who diligently gavae all the craziest wishes of his poor owner Nobita. It has managed to stay fondly in our memories and most of the young generation is still keeping him alive with this endearing tattoo.
27. Tinkerbell Tattoos
Tinkerbell fans, all hail here! Discovered from J.M Barrie's famous novel Peter Pan, Tinkerbell is one of the famous tattoo designs among the young girls because she's too adorable!
28. I'm a Reptar Tattoo
If you don't remember Reptar from famous animated TV show, Rugrats, are you even a 90's kid? This green T-rex really got us when we were little but now we can totally relate why he was angry all the time. If you relate, get this tattoo and know why you want to support this Godzilla-like-creature.
29. PowerPuff Girls Tattoo
We always had one favorite PowerPuff girls and mine was Butter cup! Her cute, sassy, quirky and strong character has won millions of heart.
30. Hades The Antagonist Tattoo
If you are into Greek villains then Disney's Hercules Hades is the right option. We sure remember his evil plots and that smile of course.
31. Homer Simpson Tattoo
Imagine Homer coming out of your leg just like this. He's all American's favorite character in the TV show Simpson and the fans would not even flinch to get this tattoo because its unique and funny.
32. Johnny Bravo Tattoo
Want to look stud and impress the pretty ladies? Get this Johnny Bravo tattoo inked on those biceps and see how many ladies would start admiring it!
33. Pikachu tattoo
Pikachu is my all-time favorite Japanese anime character. He's super cute and fierce at the same time.
34. The Incredible Hulk Tattoo
Marvel heroes are very popular and the number of people seeking out for Hulk tattoos is really high. Here you can see the incredible Hulk furious and green on the leg. The wondrous tattoo looks unbelievably real like as it's done in a really high definition quality.
35. Pokemon Ball
For anyone who likes Pokemon, go for this small, cute and simple design.
36. Space Minion
Minions have gathered crazy fan base and the reasons are obvious. They are super-cute, crazy, funny, and free-spirited. They can go anywhere and do anything, so why not got to space with the cutest little astronaut uniform.
37. Superman Minion Tattoo
Love Superman and Minion both? How about mashing them up to get this sweet yet strong minion, ready to fight the bad guys.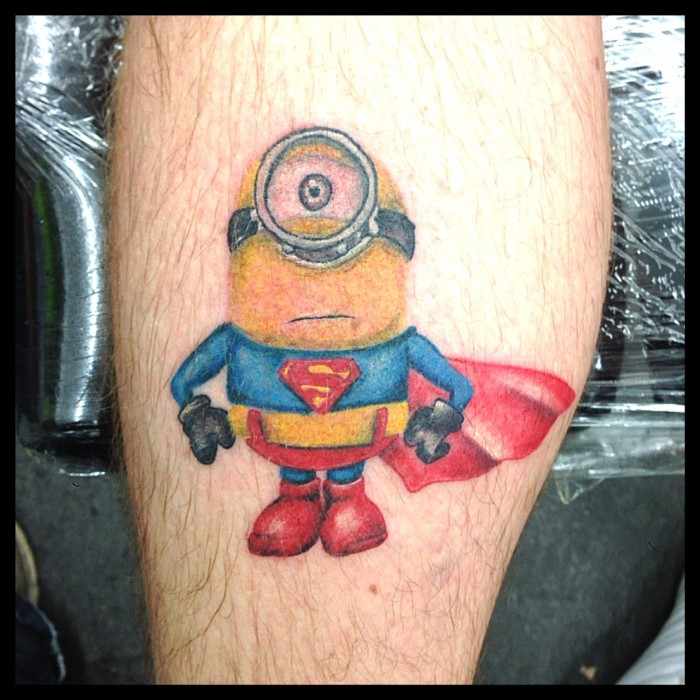 38. Smurfette Tattoo
The smurfiest of all the smurfs, she gained a lot of appreciation and adore from the movie, The Smurfs. This tattoo adds a nice blue and a yellow tone on your skin.
39. Classy Iron Man Tattoo
Fans of Tony Stark, the one and only great Iron Man won't even flinch to get this tattoo. An amazing piece of art really!
40. Cute Ninja Tattoo
We all have dreamed of becoming a ninja and flying over the clouds while chasing the bad guys.
41. Calvin and Hobbes reunited
This ink
concept of 
Calvin 
& 
Hobbes is really creative and fun! No other comic/cartoon tattoo can be this adorable and arstistic!
43. Tom and Jerry Duo Tattoo
The most loved, watched, and famous cartoon characters of all time, which everyone has grown up watching is Tom and Jerry. I'm sure most of you are motivated by the nostalgia of this cartoon and wouldn't mind getting the tattoo as it looks cool and funny, reminding everyone how much we miss it.
44. Winnie the Pooh Tattoo
Favorite of many young kids, Pooh taught us to be innocent, giving, kind and a good friend. If you are a big fan of this cuddly, honey-loving bear, get this one. It's cute and colorful.
45. Snoopy and Charlie Brown
Snoopy and Charlie Brown, also known as The Peanuts, they once became icons in the cartoon world. With this simple outline ink,  there is still space to recall these hero of the Peanuts.