Bunny Tattoos or Rabbit Tattoos have been popular choices among tattoo enthusiasts. Aside from being super cute, they bring a special meaning or symbol in one's life. Rabit tattoos range from traditional colorful to modern type and they can turn out to be a real masterpiece if we choose the right design for our body.  The tattoo industry is flourishing and rabbit tattoos are on-trend. The reasons are because they symbolize much more than a cute animal. They symbolize speed, success, fertility, and many more.
Rabbits/bunnies are additionally connected with sex and desire, so it's not amazing that Playboy picked a playboy bunny as its brand logo. Bunnies have been portrayed as peculiar characters in movies as well including The White Rabbit of Alice in Wonderland, Walt Disney's Thumper, Bugs Bunny, Roger Rabbit, and so on. You can discover a wide range of styles of bunnies in fiction, including funnies, advertising and movies.
What does Bunny or Rabbit Signify in Life?
Although growing up we saw rabbits as a shy, jumpy, and scared little fluffy bundle of joy, rabbits can be as clever and crafty as possible. Rabbit spirit animals symbolize many things including Fertility, Abundance and wealth, cleverness, creativity, spontaneity, fear, and shyness. We will explain all the symbolism briefly below.
Rabbits symbolize fertility because they can produce a large number of offspring during their mating years. They can reproduce from 2-5 litters per year.
Rabbits symbolize abundance as they are often known for holding food in their little burrows for long winter months and reproduce in healthy manners.
They also symbolize cleverness as they have a highly peculiar sense of observation and wits that saves them from danger.
In a quick, impermissible way, rabbits appear to run. They move suddenly zigzag and dart in unforeseen directions. The rabbit power animal may remind us that a small amount of spontaneity is good in life.
Rabbits are also seen as the symbol of fear as their instinct to save oneself is very high and they treat every small threat with a great defense like hiding behind the bushes or inside their burrow.
Is having a Rabbit Tattoo Good Luck?
Well, there's no concrete proof or theory that having a rabbit tattoo is good luck, but most superstitions show that the rabbit embodies spiritual meaning and magical powers. Ancient Greek mythology tells that rabbit symbolizes good luck, love, and abundance. Further facts reveal that rabbits were the favorite companions of Aphrodite, the Greek goddess of love beauty, pleasure, passion, and procreation.
Rabbits live in the tiny burrows which indicate that they always spread their energy to the ground. This symbolizes us to self-reflect and stays grounded. Mayan mythology assumed that the change of the moon's phase resembled the motion of a jumping rabbit while Mesopotamian believed that the rabbit was connected to extreme femininity as they could procreate a lot.
Not only this, Christians consider bunnies as a symbol of the arrival of Jesus in Jerusalem. That's the main reason why the Easter festival is celebrated with traditional Easter Eggs and Easter bunny representing fertility and birth, and bunny delivering delicious chocolates for the little ones on Sunday morning.
What will interest you more in getting the rabbit tattoo is more facts and symbolism. The rabbit in Buddhism represents the self-sacrifice and serving others whereas it was an emblem of Thoth in ancient Egypt. It indicates strength and a fresh beginning. The Chinese zodiac sign of the bunny is on the fourth coin, an emblem of peace and life, of pleasure.
Now that you know the symbolism, meaning, and importance of bunnies and a rabbit is your spirit animal, here are some interesting bunny tattoo ideas that you must have.
50+ Must-Have Bunny Tattoo Ideas and Inspiration
If you haven't let in the magic and bliss of bunnies into your life, look at these amazing and must-have selections of rabbit tattoos.
1.Geometrical Bunny Tattoo Ideas
Looking for something cute, yet abstract and not so flashy? Geometric bunny tattoo designs are perfect for inspiration. The several lines, dots, patterns and the geometric illustrations combined together to give this abstract shape and the marvelous use of black ink on either your arm, shoulder, legs, or wrist will make you rock it! You can also suggest your tattoo artists adding few other shapes like squares, pentagons, mountains, or triangles to take it up a notch.
2. Dreamy Bunny Tattoo
Bunnies might make your dream come true, so why not improvise a bit and try this cool dreamy bunny tattoo?
Also See: 225 Thigh Tattoos with Meanings & Placement Ideas!
3. Poetic Bunny
Adding a bit of a feminine touch, with bouquet and bunny in the tattoo brings out the poetic, artsy side of it. You can either go for a colorful one or just simple black inked, just like this.
4. Sweet WaterPainted Bunny
Small and cute, this bunny tattoo fits perfectly for women who want to look sexy and classy at the same time. The water painted texture adds more fun to it!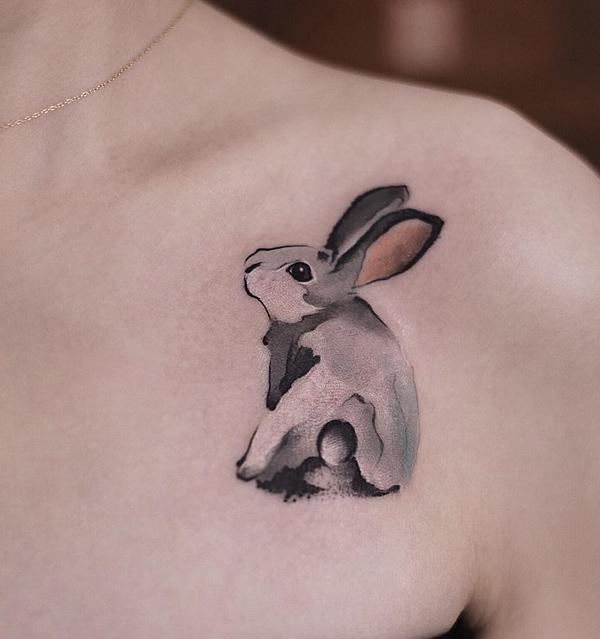 5. Skeleton Bunny Tattoo
This is kind of rustic, something like death metal or skeleton tattoo will be perfect if you love rough, emo look and want to look adorable at the same time.
6. Wolf and Bunny Best Friends
Who thought the rabbit and the wolf could be the best of friends. It simply denotes that enemies can be best friends too. The line and dot work in both these tattoos are marvelous and it shows true love between these furry, feisty animals.
7. Psychedelic style bunny
Psychedelic tattoos manifest themselves in the form of complex lines, patterns, ornaments, and adding a bunny to it just amplifies the meaning of this tattoo. If you have ever had a psychedelic experience and want to express, you can try this one out.
8. Colored Bunny Tattoo
Colorful tattoos can be amazing pieces of body art. With the right colors, shades, and right character, i.e the bunny, the tattoo will look simply marvelous. For those individuals who need a striking new tattoo with a bunny structure that represents vibrant hues outside the lines, this watercolor approach is an incredible decision and these spotless bunny plans give brilliant instances of this vivid tattoo style.
You can choose your own colorful bunny tattoo design and improvise by adding more colorful things like petals, flowers or patterns.
This is another big, highly detailed rabbit tattoo with added features like flowers and pocket clock. The color looks faded but it pops out in your skin tone.
9. Bunny sketched style
Sketch themed bunny tattoo can turn out to be pretty good if your tattoo artist knows how to sketch and shade properly.
10. Chinese Bunny Tattoo
Chinese Bunny tattoo looks animated but female rabbit fans who want minimalistic design can go for this cute design.
11. Fluffy Bunny Tattoo
Want to flaunt your legs with a fluffy bunny realistic 3D sketch? This design might just be what you are looking for.
12. Pencil Sketched Black Inked Bunny Tattoo
Try out this gorgeous pencil sketched black inked bunny tattoo and grab all the attention.
13. Dotted and line work watercolor bunny tattoo
Want to go a tad bit colorful with a bunny tattoo? This tattoo integrates perfect ink work with added flowers, shades, and colors.
14. Tiny bunny with floopy ears tattoo
This cute little bunny with floopy ears tattoo just melts hearts. You can ink this one out on your arms, wrist, or on the back of the neck.
15. Ethnic Dotted Bunny tattoo
Beautiful ethnic tattoos represent the spirituality and religions of our predecessors that are windows into the other world and adding a bunny shows the importance of abundance, nature, and fertility during those times.
16. Cute Rabbit Arm Tattoo
Thinking of increasing your level of cuteness? This adorable bunny tattoo on arm with bell around its neck is your perfect choice.
17. Spiritual Bunny Tattoo
Bunny/rabbits are symbolized as highly spirited animals and this tattoo looks perfect on the back signaling the spiritual well being of anyone who has it.
18. Colorful Gradient Bunny Tattoo
Let's paint the town with the blue magenta gradient by adding this to your tattoo collection list.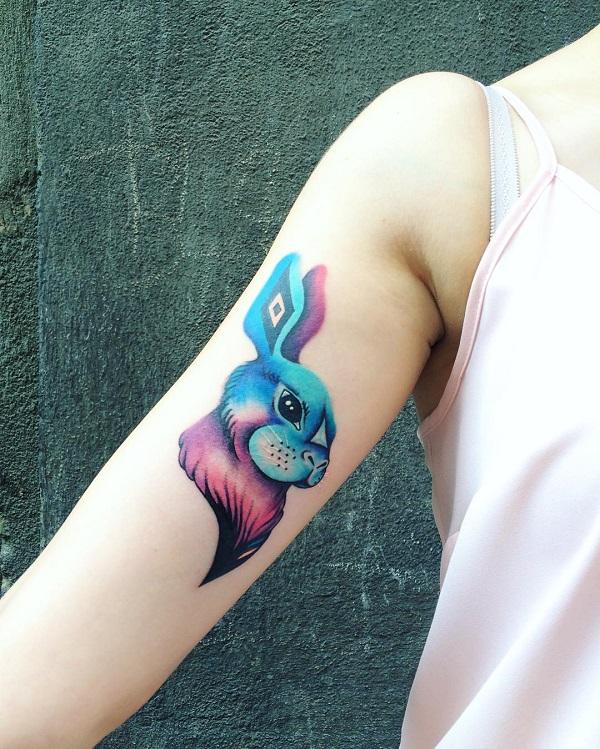 19. Nature Inspired Bunny Tattoo
Natural, added with the circle of life and bees, this bunny tattoo fits perfectly for both me and women who want to connect to the mother earth and look peculiar.
20. Mini Bunny Tattoo
Small and cute, this mini bunny tattoo fits perfectly for women who want to look sexy and classy at the same time. The dotted texture adds more fun to it!
21. Ethnic Bunny in a parachute tattoo
Do you ever feel like letting yourself free, riding on a parachute just like this adorable bunny? This tattoo represents the feeling of freedom and success.
22. Jumping Bunny Tattoo
The jumping bunny looks more active and ready to achieve all the success. The details of flower and leaves beautified it even more,
23. Dense Inked Rabbit
If you are a fan of the traditional dense black inked tattoo but want it like a bunny, here you go.
24. The White Rabbit
White Rabbit is the most famous character of fantasy series, Alice in Wonderland and it's the 1st character Alice meets.Alice tails him when he hustles into his gap and consequently enters Wonderland. The White Rabbit portrays anxiety, looking at his clock, always in a rush but pretty cunning at the end of the story. If this character has won your heart, you can go for this detailed White Rabbit tattoo.
25. Cutie Patootie Bunny
Another adorable bunny tattoo to add in your bunny tattoo collection. It's suitable for cute ladies like you!
26. Fantasy Bunny Animal Tattoo
When you get a rabbit tattoo, it doesn't have to be always like a cute bunny. Instead, you can improvise and add more details like this reindeer horns or more lines and shades like that will make it look super classy.
Or this one with same bejeweled horns and added features like intricate detailing of the face, heart to symbolize love and desire and green leaves to show nature.
27. Flowery Bunny Tattoo
This one with beautiful flower and bunny in between with light blue color and roses beautifies the tattoo.
29. Simple Bunny Tattoo
If you have a knack for black dotted yet cute bunny tattoos, this is the perfect one!
30. Floopy ears with Flowers Decorated Bunny Tattoo
What could go wrong with this adorable floopy eared bunny with flowers decorated bunny tattoo? Absolutely nothing!
31. Petunia Decorated Bunny Tattoo
This beautiful petunia flower enhances the sketched bunny tattoo. This symbolizes the beautiful nature and nature associated earthly animal, rabbit.
32. Colorful Summer Vibes Bunny Tattoo
If you want to go crazy with vibrant colors any more flowers on your bunny tattoo, this is it!
33.Exciting Black Shaded Bunny Tattoo
With the incorporation of shaded gradients and exciting shapes this tattoo with 3D designs can make head turns on you in every street.
34. Tiny Moon Cute Bunny Tattoo
In case you didn't know, Rabbit is often associated with the moon, which symbolizes sexuality and fertility. This unique bunny tattoo with the moon above its head can make a unique arm tattoo inspiration.
35. Black and White Sketched Bunny Tattoo
Sketched tattoos are evergreen, especially if they are bunny ones, with a cute look. They will look perfect on your wrist or legs.
36. Bunny Illustrations Tattoo
Improvise the boring sketch by trying this half and half illustration bunny tattoo. It looks fancy, unique and stylish.
37. Egyptian Queen themed BunnyTattoo
Want to get the royal feels? Get this grand Queen bunny themed tattoo on your ribs which will make you feel like a queen.
38.Jackalope Themed  Bunny Tattoos
Fun fact: A jackalope is a mythical (fantasy) bunny known in North American folklore which is a hybrid of a jackrabbit and antelope, hence has antelope horns. This jackalope themed bunny tattoo can be  quite a mesmerizing one for those who love mythical creatures.
39. Neo-Traditional Themed Bunny Tattoo
The neo-traditional bunny style here makes things look modern and colorful by adding bold lines and other realistic images like petals or flowers which amplifies the cool personality of yours.
40. Smart Bunny Tattoo
Ever seen a bunny wearing suit and drinking tea? Doesn't it look super smart. Infact, studies have shown that bunnies are as smart as cats and dogs! If you want to show off your smart side with a bit of cuteness, go for this tattoo!
41. Bunny Full-Arm Inspiration Tattoo
Thinking of going overboard with colorful tattoo inked all over your arm? Well, here you go. Make sure to add details like motifs and pretty vibrant colors
42. Quoted Bunny Tattoo
Bunnies/rabbits/hares are known for their fast speed and attention to danger and intelligence. Run Fast quoted in this tattoo is fun to depict message to those bothering you or simply can be taken as a motivational quote to run fast towards your dreams. Either way, the bunny adds extra cuteness in this design.
43. Jackalope with Motif Decoration Bunny Tattoo
If you have a knack for shaded black and white ink with jackalope surrounded with motif decoration, go for this one without any second thoughts!
44. Colorful Abstract Bunny Tattoo
Colorful abstract tattoos can utilize unique craftsmanship styles to speak to a representative item or creature, like a bunny here that  implies different meaning like abundance, birth, freedom or fertility (in case of rabbits).
46. Down the Rabbit hole Futuristic Tattoo
Fun Fact: In the story of Alice in Wonderland, Alice actually tumbles down the White rabbit hole, transporting her to Wonderland. This tattoo signifies the same futuristic, mystical wonderland and we can comprehend how the tattoo on one palm completes the other.
47. Flying Bunny Tattoo
Not everyone is fond of huge tattoo designs that take up huge areas of skin. Truth be told, little bunny tattoo tied up in flying balloons is an extraordinary decision for any individual who needs to include a touch of ink in the perfect spot.
48.  Angel Bunny Cartoon Tattoo
Guardian angels with bunnies symbolize protection and having this beautiful tattoo denotes an ominous connection with god, earth and nature.
49. Dreamy Full Body Bunny Tattoo
This is kind of dreamy, fantasized, full-body tattoo with lots of details can be perfect for someone who loves to have tattoo all over his/her body. It can be a style statement for singers or rock artists.
50. Neo Morphism Inspired Bunny Tattoo
Adding a bit of a neomorphic, flowery touch, with patterns and shapes in bunny  tattoo brings out the poetic, artsy side of it. You can either go for a colorful one or just simple black inked, just like this.
51. Pigmented tiny bunny tattoo
This one will certainly be every girls favorite. The fancy colorful cute bunny tattoo is a tattoo goal and fits perfectly on every girl's slender wrists.
52. Cute Tiny Bunny Tattoo
These tiny cute bunny tattoos are to die for! Girls add them to your tattoo collection and they can be inked anywhere you like and look super adorable and sexy at the same time!
Lastly, we wanted to you know that in numerous customs bunnies are also  viewed as signs of good karma, particularly in the event that one crosses your way.  We hope these interesting and stylish bunny tattoos utilize an assortment of styles that exhibit enough motivation for you to get one inked!